Right in time for the new year, we have put together our Top 5 Leetie Baubles from 2020!
From best sellers to newly added, hoops to studs, we know you will find one (if not all) that you love!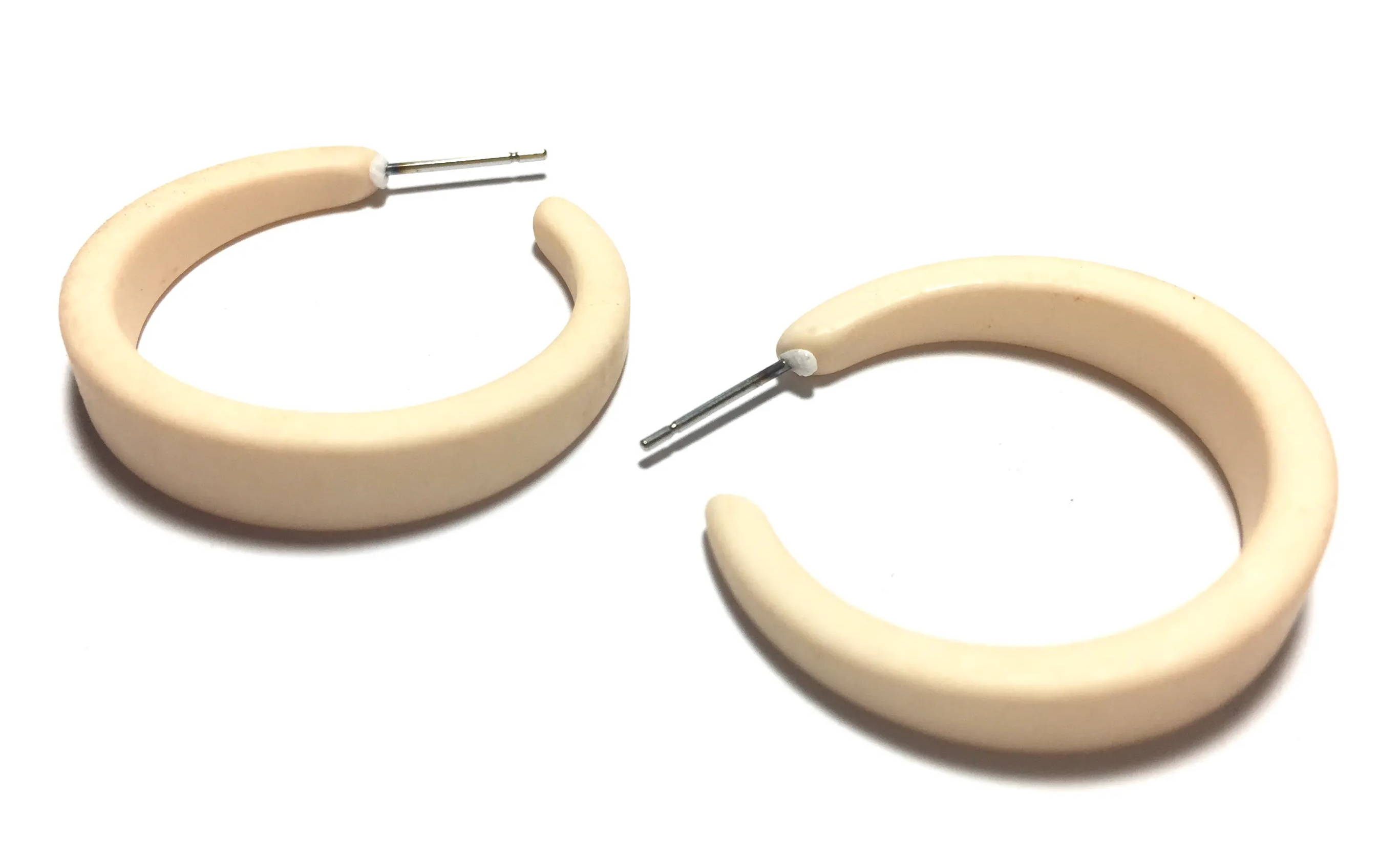 #1: Ivory Matte Lola Hoops
Our TOP seller this year was our elegant Ivory Matte Lola Hoop Earrings. Our Lola Hoop Earrings are medium sized, matte or frosted, and most are hand-dyed in a great range of colors. This top seller has an off white hue with a velvet finish and is a total pin-up girl's style. The Lola Hoops measures approximately 28mm in diameter and 7mm at the widest width, tapering down to about 3mm at the ends. Light-weight and fun to wear all year round and for any occasion! Click here to buy these beautiful Lola Hoops.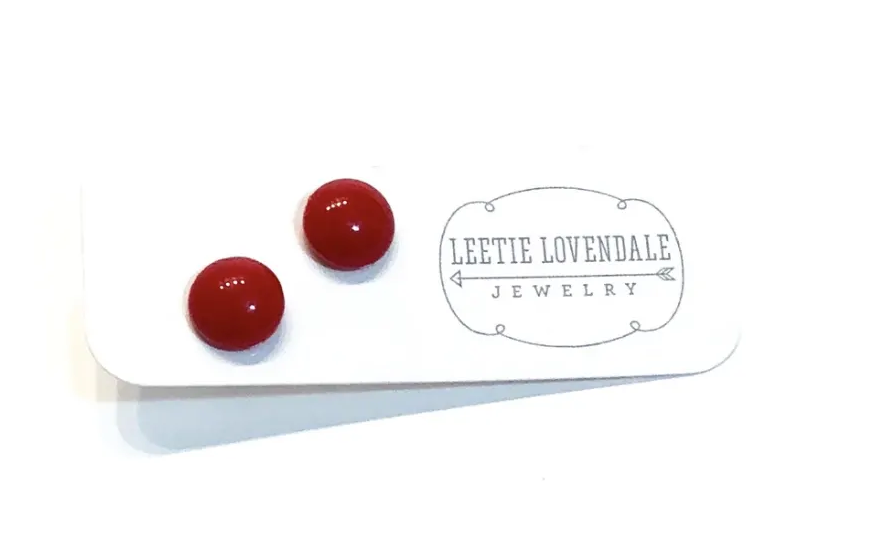 #2 Cherry Red Retro Button Studs
These Cherry Red Studs were a second favorite from our Leetie lovers this year. Coming in a fantastic size of 10mm in diameter and designed with a shiny opaque finish. Reclaimed from the 1960's-80's from a high value quality distributor, Best Plastics, we hand-set a sturdy surgical steel backing that is highly beneficial for people who may have sensitive ears. Love these hoops?! Click here to purchase!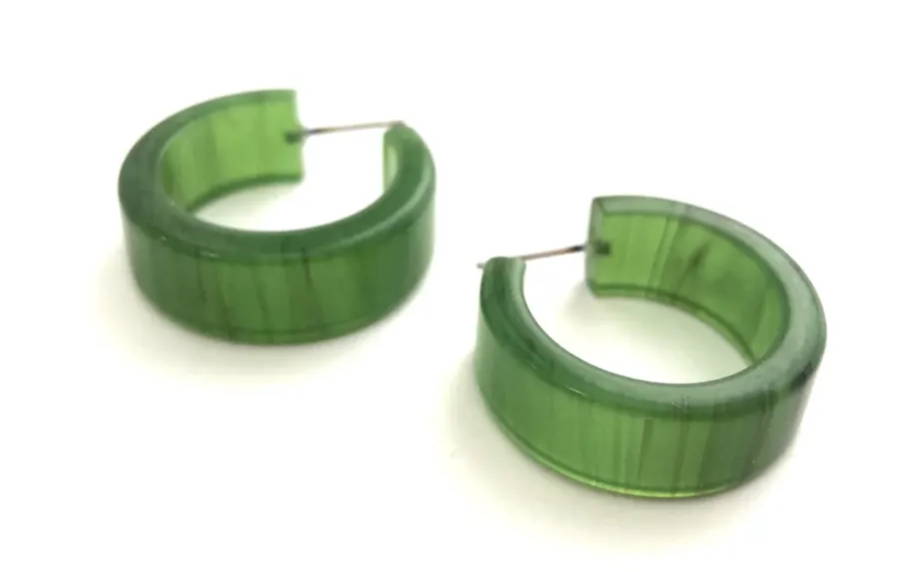 #3: Jade Green Marbled Wide Retro Hoops
Beautiful, marbled, striated, these jade green hoops are designed from vintage lucite giving this classic retro hoop a twist! This lovely hoop is known as our Parker Hoop and measures just over 28mm in diameter and 10mm in width. Most of our jewelry is made with vintage lucite parts that were made in Rhode Island in the 1960's- early 80's by Best Plastics, and that's where this amazing retro hoop is resourced from.. Although they are sustainably vintage, they are surprisingly lightweight with a super bold pop of color. Pop on over to purchase these retro hoops by clicking here!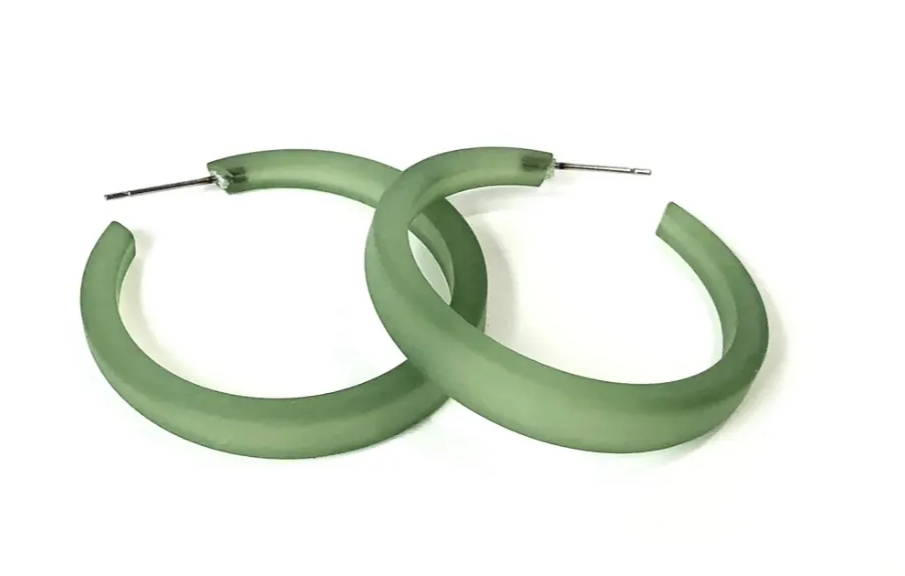 #4: Sea Glass Green Tapered Phoenix Hoops
Coming in at 4th place this year is our fabulous Phoenix Hoops. These hoops have a finely shaped and tapered hoop that is about 37mm in diameter and 7mm at the widest. Our Phoenix Hoop is super popular because it gives you just enough flare to take a basic hoop and make it a statement. And just your luck, they come in loads of popular colors in this popular frosted, almost 'sea glass' finish, so you'll want to grab them all! Curious to see all the colors we have to offer? Click here!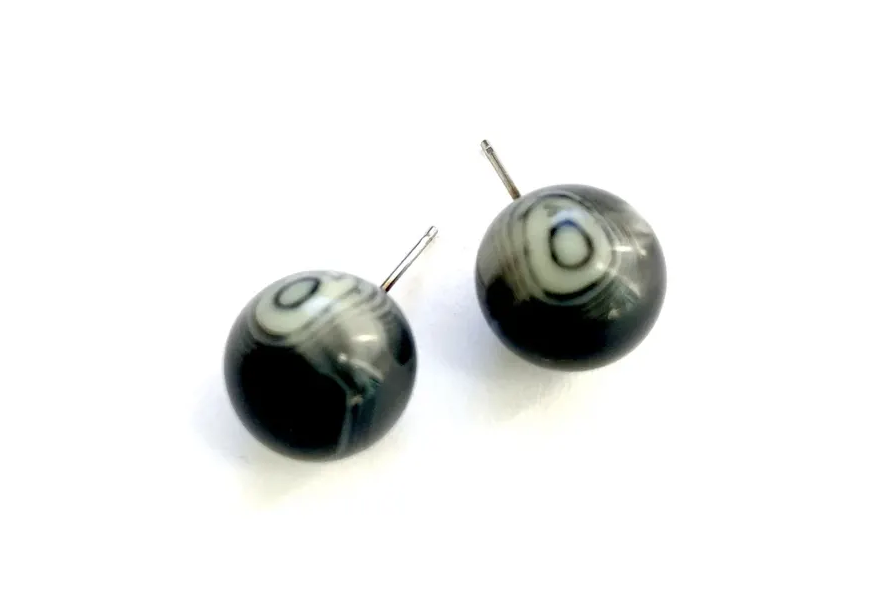 #5: Light Grey Vintage Lucite Minimalist Ball Studs
Finishing off our Top 5 Lettie Baubles we have a black and ivory stud earring that has a gorgeous marbling design. Each ball stud is about 12mm in diameter and is perfect for anyone who wants to make a small statement. Hand set with surgical steel earring posts, these minimal ball studs are light weight and fun to wear. Want to add these perfect studs to your jewelry accessory toolbox? Click here!  
Happy New Year! May 2021 be filled with love and unlimited baubles.
XOXO Leetie Lovendale