How Jewelry Made with Vintage Plastics Comes to be...
Jewelry Design Inspiration
We are so lucky to have regular customers & friends who shop with us repeatedly. And they always ask us what it's like to design for Leetie using vintage plastics from our supply hoard. It's fun. I truly have my dream job. My inspiration really comes from the materials and unearthing some new piece & imagining what it can become. Sometimes I'm lead to make contemporary designs with the parts based on shapes or motifs or color-ways that are on trend. And other times, I might discover something cool in one of my old books on vintage jewelry that will lead me to an updated version of it. Just taking a walk through our warehouse garage can lead to a whole new line! -Heather DeSimone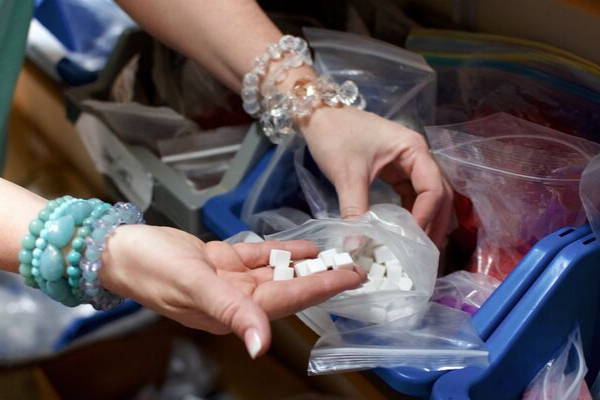 How Leetie Earrings & Jewelry is Made
So we string beads. In all kinds of different ways. But much of the parts we found didn't have holes. Or they might have been shaped like macaroni but they weren't finished into earrings. SO, we did some research & learned how the jewelry design houses back in the 60's & 70's used to work with these parts to begin with. We don't use adhesives which is just one other detail that people love about Leetie - if you have sensitivities, there are no glues to worry about. We use machines that we build in-house to heat set metals into the plastics. This way the connections are sturdy & we know that the posts are set in properly & our jewelry is high quality. It also allows us to be creative & make the same part into an earring in one instance & then use that same part to make it into a pendant or a charm. The metals we use are primarily surgical steel which also keeps Leetie jewelry perfect for wearers who have allergies or sensitive-to-metal-ears.
We started our jewelry journey at flea markets & on etsy! And now we are pretty much exclusively online marketplaces and selling wholesale to your local boutiques & brick and mortar stores. We love working from our home studio. Heather gets to see her tween & teenage boys get off the bus & help with homework all while wire-working a necklace. The Leetie team has flexible work schedules around shipping deadlines. We burn sage & eat cupcakes together at work. There is an office dog, and even a cat or 2. We have thought of moving to a larger studio space & even though you all have us fast outgrowing our space, we are holding firm as long as we can. We are Moms and even grandmothers and we love the flexibility of running a small business & getting to work closely with our boutique store owners & online shoppers. Leetie is what it is, by design. And for that, we have you to thank. Thank you for supporting Leetie Lovendale.