About Leetie Lovendale Jewelry
LEETIE LOVENDALE IS A JEWELRY LINE BORN OF LEFTOVERS.


IN 2004, DESIGNER HEATHER DESIMONE WAS CO-OWNER OF A BEAD STORE. SHE & HER BIZ PARNER (AND MOM) WERE IN THE HABIT OF PURCHASING VINTAGE LOTS OF BEADS & MANUFACTURER'S LEFTOVERS FROM THE JEWELRY INDUSTRY.


One day they got a call to head to a warehouse in Pawtucket, RI which had been making plastic merchandisers for the previous 3 decades. However they had 40,000 lbs of old plastic jewelry parts that had been sitting since 1983. They needed that warehouse space back & Heather & the bead store staff started packing.

ONCE THEY HAD PACKED UP, PALETTED, FORK-LIFTED & TRUCKED 20,000 LBS OF BEADS, THEY WERE UNSURE OF WHAT TO DO WITH THE OTHER 20,000 LBS OF 'PARTS'. THEY HAD NO HOLES & WERE ODD-BALL SHAPES, AND DIDN'T SEEM 'BEAD-STORE-READY'. Having no idea what to do with them, how to set them, or manipulate them into jewelry because they weren't beads, the parts were almost left for the 'junk man'. When the gentleman who had managed the warehouse since he was 16, showed her some dust-covered setting machines, a new line of jewelry was born.

'LEETIE' (pronounced "Lee-Tee"), JEWELRY & ACCESSORIES ARE MADE OF REPURPOSED PLASTIC PARTS, WHICH WERE ORIGINALLY MANUFACTURED IN THE 1960's - EARLY 80's FOR COMPANIES SUCH AS AVON, TRIFARI & CORO. HEATHER MAKES THEM INTO FUN & MODERN DESIGNS, PERFECT FOR TODAY.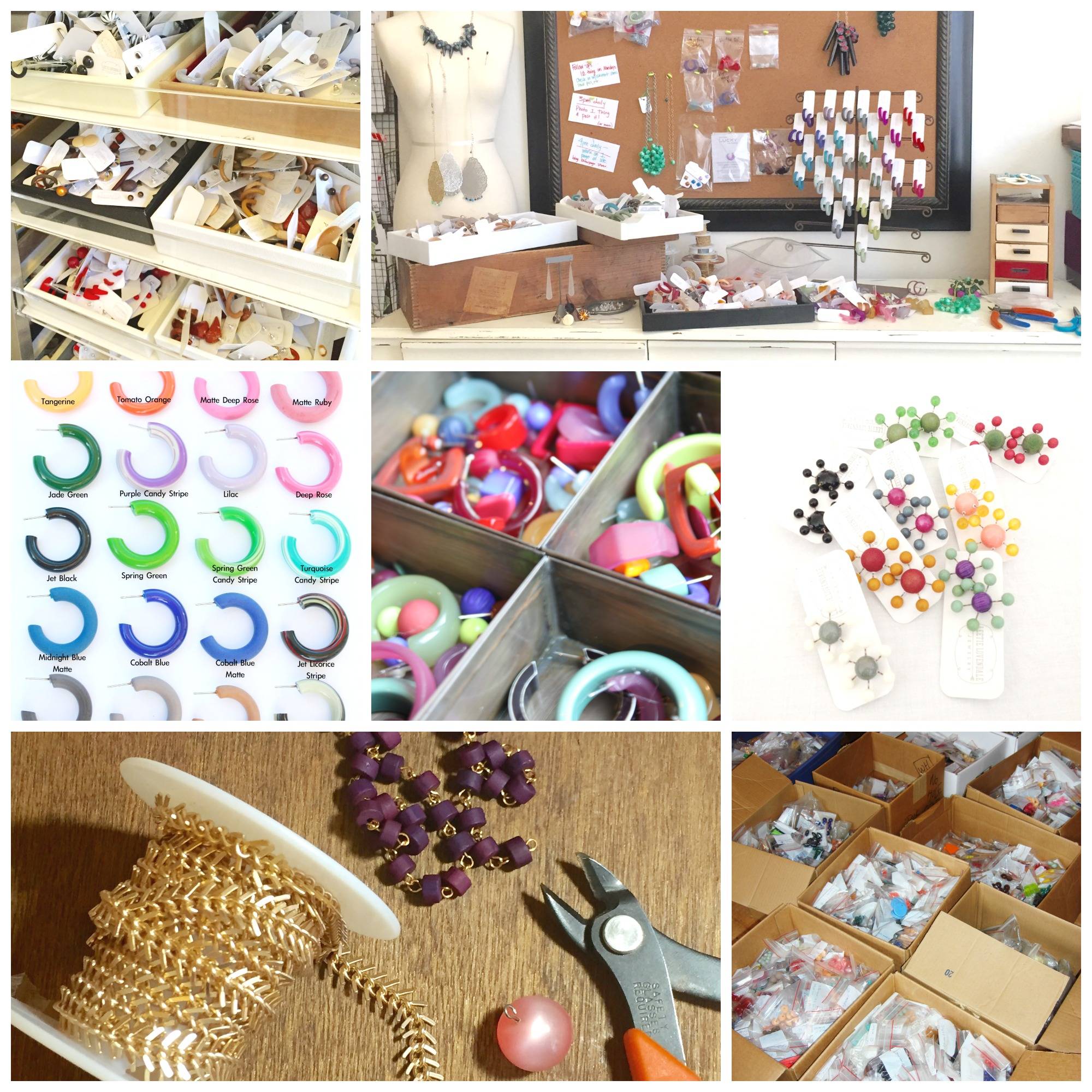 FROM THE DESIGNER, HEATHER DESIMONE:
I STARTED IN THE BEADED JEWELRY WORLD. I OWNED A BEAD STORE FOR OVER 20 YEARS, TAUGHT JEWELRY-MAKING CLASSES, AND I EVEN PUBLISHED A BOOK. BUT THE DESIRE TO START MAKING JEWELRY AGAIN LEAD ME BACK TO WHAT STARTED ME ON MY PATH TO BEGIN WITH. AFTER STUMBLING UPON 40,000 LBS OF OLD PLASTIC PARTS, LEFT BEHIND BY THE JEWELRY MAKERS OF THE EARLY 60's thru 80'S, I ENVISIONED A LINE OF JEWELRY THAT WAS SUSTAINABLE AND MADE VINTAGE THINGS LOOK NEW AGAIN.
I HAVE MORE RECENTLY ENVISIONED A TEAM, OR A TRIBE, OR A FAMILY OF WOMEN LIKE ME: STRONG, READY TO SUCCEED. NEEDING AND CRAVING THE FREEDOM TO MAKE MONEY ON THEIR OWN TERMS. WITH A DRIVE TO SHARE A COOL PRODUCT. I CAN'T WAIT TO MEET YOU & WORK WITH YOU ON OUR SHARED GOALS: GET LEETIE LOVENDALE SEEN, COLLECTED AND LOVED. AND TO SUCCEED WHILE WE DO IT.
OWN A BOUTIQUE? Here is how you can stock Leetie.
WANT YOUR OWN BUXINESS? We offer Boutique Boxes & loads of sales info so you can start your own thing!
WANT TO SHARE THE LOVE OF LEETIE & EARN FREE JEWELRY? OR EVEN A COMMISSION? Become a Leetie Style Guru.
SUSTAINABLE & ETHICALLY SOURCED.
LEETIE LOVENDALE, FROM THE VERY START, HAS BEEN MADE USING VINTAGE GOODS, FOUND LEFTOVERS, AND PLASTICS WHICH WERE SALVAGED FROM WAREHOUSES BEFORE HEADING TO A LANDFILL. AFTER YEARS IN THE BUSINESS, WE STILL FIND SOURCES LIQUIDATING OLD JEWELRY PARTS, BEADS & COMPONENTS. AND, WHAT IS NEW NOW, WILL BE LEFTOVER & VINTAGE BEFORE YOU KNOW IT.
MADE IN THE U.S.
DESIGNED & CONSTRUCTED HERE IN THE U.S., LEETIE'S MAKERS ARE STAY-AT-HOME MOMS, RETIREES, ANYONE WHO NEEDS A FLEXIBLE SCHEDULE. FROM THE MAKERS TO THE SELLERS, LEETIE'S TEAM CAN CREATE THEIR OWN REALITY.
GOOD STUFF.
LEETIE LOVENDALE JEWELRY MIGHT BE MADE OF OLD PLASTICS, BUT THE FIXINGS & FINDINGS ARE ALL NEW. OUR STUDS ARE ALL SURGICAL STEEL, WHICH HAS MADE PEOPLE WITH EARRING SENSITIVITIES A LOYAL CUSTOMER BASE FOR US.