Selling Jewelry at Markets
SELLING JEWELRY AT MARKETS
What Markets & Festivals Should You Choose?
Craft Fairs, Artisan Markets, Farmer's Markets, Open-Air Markets, Festivals, Fundraising Events...
The list goes on. Some of these might work for you. Others might not. We have years & years of experience selling at markets & shows. Most of those we have experience with are artisan markets, shows & open-air markets. Here is the 411 based on what we have learned. Hopefully this helps you have a successful time selling Leetie at markets in your areas!
---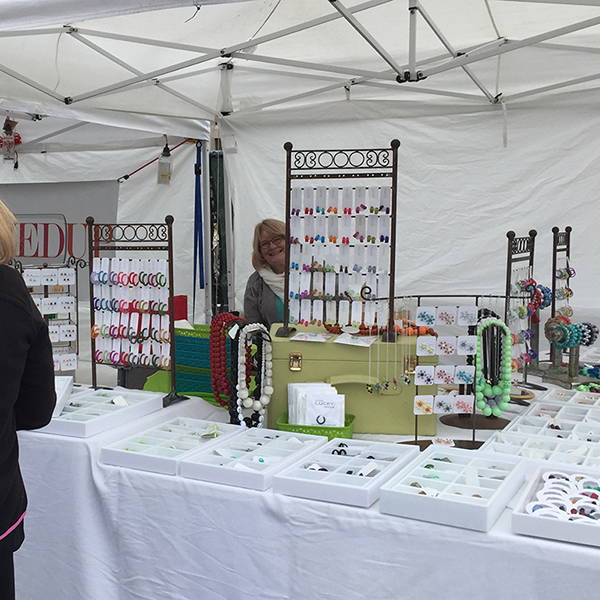 OUTDOOR MARKETS & FESTIVALS
Outdoor markets are fun and festive. People are excited to be out and about & usually very ready to shop. When determining if a market is a good fit for you, one thing to consider is the point of the event. Is it a balloon festival with vendor tents? Will people be there for the balloons & the shopping enhances that experience? My guess would be yes. BUT other events, maybe perhaps a Food Festival. Will people be so busy going from tent to tent for the food and maybe not as interested in shopping and boutique goods? Maybe. Just things to consider when deciding on the type of events that might work out well for you.
If you do sign up for an outdoor event, good promoters will let you know what you'll need to be involved. But some typical things you should expect are these: bring your own tent and tent weights, tables, chair and table coverings. Displays & jewelry are a given. But these are all things that most outdoor events expect vendors to provide on their own. If the event spans over multiple days, be prepared to pack up much of your stock so you don't have to leave it overnight (or see if the event offers security). And you'll want to have tent walls to zip down your 'temporary boutique' for the night. If your event has hours that are open after dark, you'll need to inquire about electricity & bring your own lights & many, MANY cords.
Be sure to pack a cooler with your favorite drinks & snacks & lots of ice, especially if you are outdoors in the Summer. Consider wearing layers for clothing especially if you are working the tent for long hours. It might be nice & cool in the morning when you set up, but you'll be hot from the physical work of setting up the tent, etc. Then it could be hot in the mid-day and freezing again in the evening. Dressing in layers & comfortable shoes is a lifesaver.
FUNDRAISING EVENTS
Fundraisers are one of the best type of events for you, and here are just a few reasons why. First of all, you're helping someone raise some funds! Usually this will be for a charitable or non-profit cause, and everyone in need is always looking for a fun new vendor to help them accomplish their fundraising goals. Secondly, these events are likely very local to you. Spreading the word about what you sell and what you do locally is key. These people are in your community and will likely become repeat customers as well as help get your name out there to their friends and neighbors. And last of all, it doesn't cost much to get involved in most of these events. Many times it will be a nominal booth fee, usually much less than a local craft fair. In other cases, they may just want you to donate a portion of your sales, a donation of your choosing, or even gift some product that they can raffle or auction off.
To find local fundraisers, just listen locally. Many of your Facebook friends will post about local organizations or even individuals in need. You can also do online searches for 'fundraiser Portland, Maine' for example and see what comes up. Ask at your local schools if they do any PTO events that offer vendor spaces. Ask at your local churches. Look for nearby 5k races and ask if they have vendor opportunities. If you hear of a need, you can even organize your own fundraising event & donate a portion of sales back to the cause.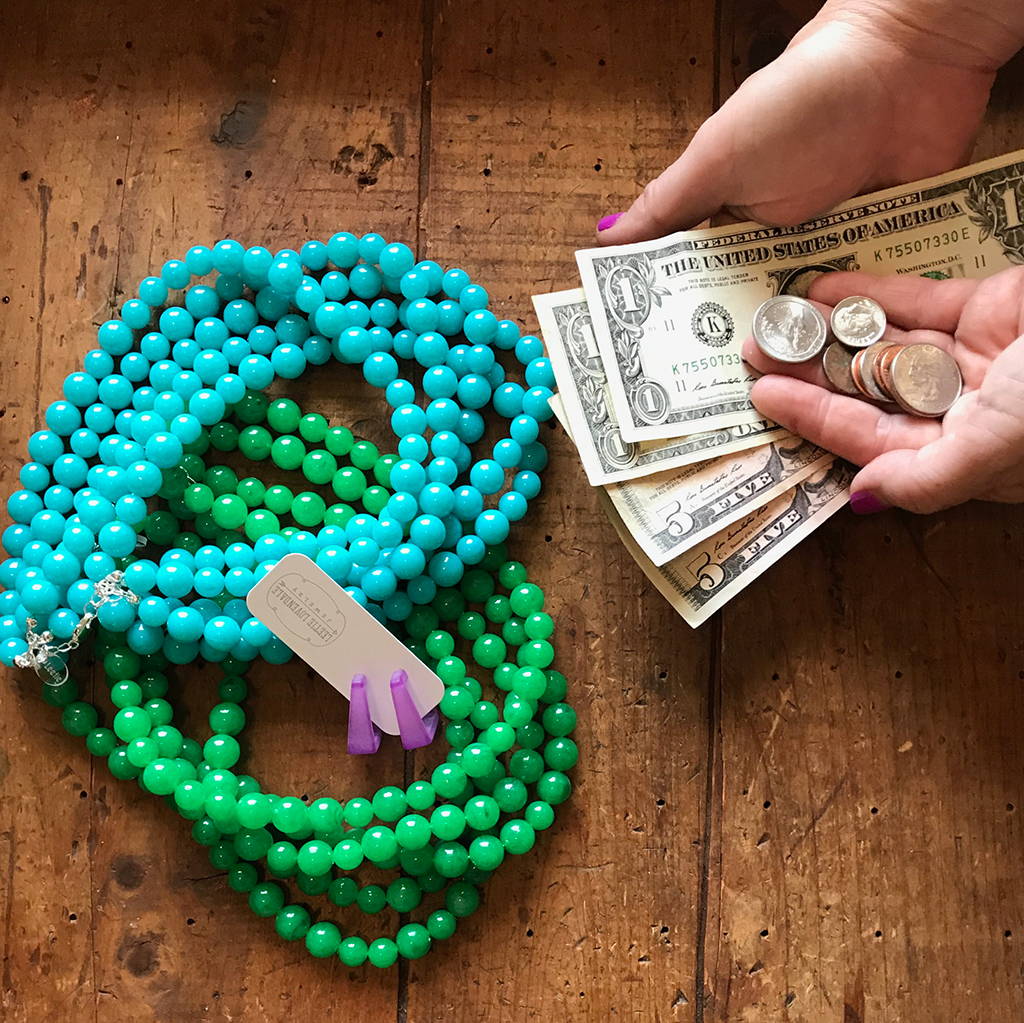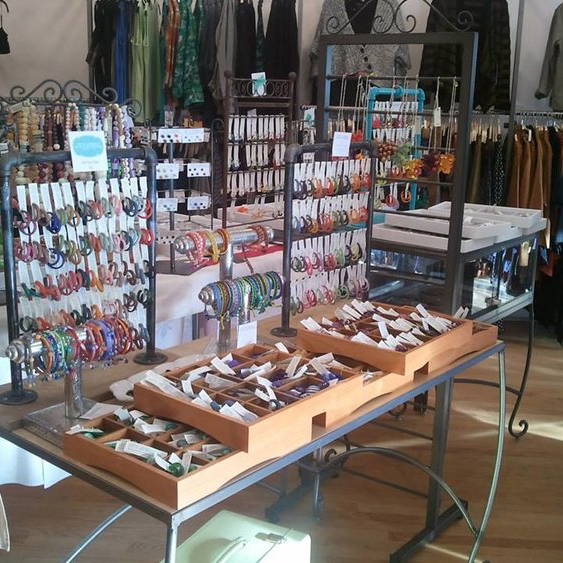 BOUTIQUE EVENTS
In our experience, this is the newer market event that is up & coming. Sometimes they are in houses. You'll find them at coffee shops. Other times they are in a brick & mortar store that has extra space. These events are organized by shop or home owners who might be fundraising. Or they might be just doing it to make some extra bucks. Booth fees are generally really reasonable. You might be setting up in someone's back yard or their kitchen. You could be setting up in a store front of a big name retailer. Or you might even be set up in your mother's BFF's retirement country clubhouse. What's great about these events is they are brand-focused vs. hand-made-focused. They like what you do and what you sell? You'll be invited.
Sometimes these events have straight up booth fees. Sometimes they just ask for a portion of your sales. You'll have to weigh out the cost vs. benefit but in our experience, this newer type of grass roots venue has worked really well for all involved. The coordinators network to spread the word to their contacts. And then each of the vendors usually has to sign an agreement that they will do their part in marketing & spreading the word about the event to their local peeps. It's a win-win. Join them. Organize them. Love them.                      
VINTAGE & FLEA MARKETS
There have been so many amazing Vintage Markets & Flea Markets that have been cropping up all over the US & even Europe. Many of these events are focused on shoppers who are looking to find industrial, cottage, mod or shabby finds for their decorating needs. But there are usually vintage clothing, fashion & jewelry peeps mixed in among those vendors who sell home decor. And many of us do really well because we aren't competing with many others. After the would-be decorators have hauled their corbels and wine barrel signage to the car, they come back for lunch & some 'me-shopping' and that's where we do really well. Our goods are made with vintage plastics. They're on new cards & branded as clean & ready to wear. But in reality the majority of the goods are newly finished vintage jewelry. The manufacturer who made the plastic parts made them originally companies like Avon, Haskell, Coro & Trifari back in the day. The day was the early 60's through the early 80's. Did you know that Sears even had a mid-70's jewelry line? These plastics were made for that line too. The warehouse we originally cleared out housed shapes & unfinished parts that were originally intended for these designers. The parts were left over or 2nds: meaning the color wasn't what they were looking for, or the curvature of the hoop wasn't what they pictured. All of this history qualifies any Leetie Love to participate in these shows. If you need more info, please feel free to print out 'Our Story' on a take away, tear sheet or stuffer to put in shoppers bags.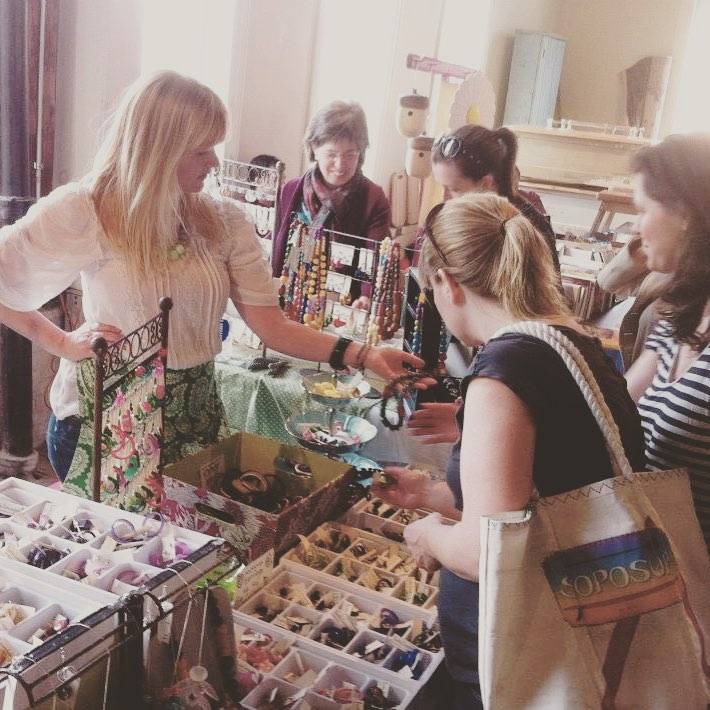 So whether you decide your nice show is a Vintage Market or your local Farmer's Market, it's great to try a few differnt types of markets in order to find your place. In some areas of the world, farmers markets are vibrant events where you meet your neighbors and people shop very loyally each week. In other areas, they might not be well attended and not the right fit for you. I always say (mostly to myself when I wonder why I signed up for something that might be a slower-than-usual event "Why did I sign up for this?" that "You don't know, til you go!" Because many times an event that might seem like an odd-ball fit, ends up being a smashing success! And even at those slower markets, I almost ALWAYS have gleaned one or 2 new loyal customers who then find me wherever I am next OR they own a store and want to stock Leetie OR they run their corporate makers market where they work and invite me... So always remember "You don't know until you go!" And just have a great time!