Leetie Love Working Agreement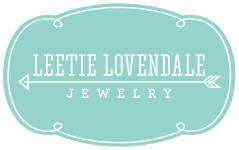 Leetie Lovendale - Sales Representative / Leetie Love Agreement
Company Introduction
Hey there!
I am Heather DeSimone, the founder and designer of & at Leetie Lovendale. Leetie Lovendale is a jewelry line full of personality: mine and now soon-to-be yours, and just as important, it's wearers. This document is meant to serve as a background summary of this business as well as a working agreement.
Some Company Background:
Leetie Lovendale was born of leftovers found in a Rhode Island warehouse. My Mom and I co-owned a bead store for 20 years and about half way through that run, we stumbled upon a warehouse containing 40,000 lbs of vintage jewelry components. The warehouse manager was looking to liquidate. All of it. He needed bare floors. We thought likely that two 10' U-Haul trucks should be enough to get the new horde to Maine, where the store was located. Then, 5 dirty & sweaty days later, after learning about palette'ing and fork-lifting, we had to send two semi-sized tractor trailer trucks down to pack up the the rest of it. It was the vintage lucite beads & shapes motherlode. But, much of the stock wasn't suitable for the bead store / hobbyist market. There were macaroni shapes, tubes, shapes with no holes: components that needed some extra work to become usable. After some research & discussions with the original foreman of the warehouse who had been the head manufacturer back in the 60's, when most of the plastics were made, we learned how to replicate the hand-setting machines to turn all these seemingly unusable parts into fun and funky, retro-inspired parts and finished jewelry, suitable and wearable for today.
The name Leetie Lovendale is named after my Mom. She's always been my biggest cheer leader in life. Actually her name is Jan Parker. But at one time, she was known as Jan Aleta Lovendale. My Dad called her "Leetie" as a nickname for Aleta. And growing up, I always secretly wished I had a unique & flowery last name like Lovendale. So I adopted it when I named my new company.
Over the years, the scope of Leetie Lovendale has changed. The bead store grew and flourished, as did my family. Leetie became sort of my side hustle: just an Etsy shop, and then a few outdoor markets and open houses with friends, from time to time. It was always a solid selling product. However it never received my full attention during those years. Fast forward to 2014: it was time for a change and the decision was made to close the bead store & move the family across the country to Arizona. I focused my attentions on my family & helping my husband's contracting business get up and running. All the while, I steadily made and sold Leetie at local markets, serviced a few wholesale accounts at stores between Maine & Arizona. But in 2016 it was time once again for a change. As my kids have grown older and more independent, it is now time to really grow Leetie into it's full potential. It's a great time of growth that is coming and I'm ready to spread the word and the visibility of Leetie Lovendale, and in doing so, bring on some help in order to accomplish this new goal. For the first time ever, Leetie Lovendale is offering 20 ground-floor opportunities to new 'Leetie Loves' or independent sales representatives.
The Leetie Mission:
The company's mission from the start has been this: To spread joy & happiness through the unexpected design and color of Leetie's jewelry. That's because Leetie Lovendale jewelry makes everyone smile. The mission has morphed recently: To spread joy & happiness through colorful jewelry & empowering people to run their own sustainable & fun businesses.
Procedures & Guidelines Agreement
Become A Leetie Love:
Leetie Lovendale has recently decided to offer opportunities to new sales reps, or 'Leetie Loves' makes for a wide market opening. We are quickly training and bringing on our first 20 sales representatives. We can't wait to see how this new project grows & flourishes and are excited to get to know the new faces & personalities who will help us accomplish this.
There is nothing quite like Leetie Lovendale on the market at this point in time. The jewelry is HandMade. The jewelry is made of Vintage and up-cycled, leftover parts. The jewelry is Sustainable. The jewelry is Made in the US. The jewelry has a look and feel totally refreshing & new, and it's hard to point to an exact competitor with a similar look at this point. While there are other jewelry companies who use direct sales as their outlet, there is not one out there that looks or feels quite like Leetie in any way.
Leetie Loves will carry & own their own stock. These sales reps will truly own their own businesses and can design, build and run their boutiques in the ways they see fit. I want you to be able to sell in a way that inspires you and inspires your customers. I want to be able to empower you through sharing sales tools and techniques, email tips, challenges & calls to action and eventually perhaps even nationally attended conferences and sales events.
Products are fully guaranteed. For Life. You can feel proud to stand behind the craftsmanship Leetie offers in their jewelry treasures. Your customers will shop with confidence because if for any reason, defects or damage due to regular wear and tear is found, simply ship the piece back to Leetie HQ and a replacement will be sent OR if the parts are no longer available - a common issue when working with vintage goods - a credit will be assessed to you, so that you can make your customer happy and get them a replacement in a like style.
Start Up:
We are stocked with loads of inventory read to ship! To get started in joining us and becoming a "Leetie Love" all you have to do is choose your start-up 'Boutique Box'. After that, you can replenish your inventory ala' carte style and fill in where you need to, ordering at wholesale (keystone) pricing by style. Colors & design specifics are a surprise which keeps shoppers' interests piqued and your inventory fresh & exciting. We are not able to fulfill orders by specific colors or styles as is the nature of working with vintage components. In my selling experience this is more of a plus than a negative when it comes to selling tools and the line's popularity. Turnaround time on paid Leetie Boutique Boxes is 1-2 weeks to ship date.
Right now we are offering a FREE Shipping incentive ($100's of dollars in savings) for the first 20 Leetie Loves that sign on with us.
To select your Start Up Leetie Love Boutique Box you can visit this page on our website:   http://www.leetielovendale.com/sell-leetie/
Staying Active:
Because we are learning and growing alongside you, our new Leetie Loves, we are only requiring a monthly purchase of $200 of new inventory at wholesale prices. This is to keep your inventory fresh & rotating and to keep us both engaged in the process of growing our businesses together. This amount may be reassessed as we move along and morph as a company. This will eventually be set up as an easy autoship & you can adjust or add to the base order as you need to round out your stock. Currently you will be given a Leetie Love discount code to hand-select your monthly orders.
Monthly Incentives:
Each monthly Leetie shipment to you will come with a 5% overage of product. This means if you order $500 worth of goods at wholesale you will be shipped $525 worth of goods. This usually gives you a few extra pieces in each box so that you can offer these as hostess incentives, display pieces for advertising, wearing to sell, or however you choose to use them to enhance your business. Leetie HQ will determine which products are sent as overage goods.
Marketing Materials:
At this point in time, all Leetie Loves are encouraged to create and use their own marketing materials based on our logos & graphics package that we share with you via email when you purchase your first Leetie Boutique Box. This means you do have flexibility to be creative and make your Leetie brand a reflection of your own personal brand. As we grow, we may tailor this a bit more. This is because we feel that Leetie's branding is one of it's strongest selling tools and we want that successful tool to be carried over and used by our Leetie Loves. In that though, we want to be sure that you are able to use your own messaging alongside our branding. In the future we hope to be able to offer print-ables, ready to purchase branded merchandise, etc. And if we need to re-align the marketing materials policies at that time we will re-visit it then. But for now we want to see what creative tools you can come up with to help spread the Leetie word.
Websites & Social Media Pages:
You are encouraged to create your own online presence using these tools along with others. Create your own .com. Grow your own VIP group on Facebook. Start your own Instagram feed. At this time, Leetie does not offer personalized websites, since we are an original product-focused business. Product offerings are treasures and they have limited availability. Therefore a printed or online, standard catalog would be outdated very swiftly. So you are free to create your online space as you see it for your own business. You are free to use the logos, graphics and other things we will share with you periodically as well to spread your message & grow and develop your online spaces.
Selling Alongside Other Brands:
Since our vision right along has been to give you the freedom to build and grow your Leetie business the way you see fit, we don't want to put too many limitations on this. You are welcome to sell Leetie alongside other brands. These can be Direct Sales brands, boutique brands, items you might sell in our store (brick and mortar or online). However we ask that you do not sell Leetie alongside the few following lines:
*Another jewelry company or line based on plastics, resin, lucite, polymers or acrylics.
*Another jewelry company or line based on vintage or upcycled goods.
*You are not allowed to use Leetie's cards or logo or graphics or branding for items that are not send to you by Leetie. This includes tagging items as Leetie which are not, juxtaposing Leetie signage & branding alongside items that are not Leetie, etc.
Sales & Markdowns:
Since Leetie is so competitively priced, we don't foresee that you'll have to do very many markdowns or sales in order to move the stock. In order to maintain Leetie's value & not cheapen the brand we don't encourage 'Sales' very often. However, the #1 rule to retail is to move out older stock to make way for new. Because of that, you are totally encouraged to mark down older stock or things that just haven't been moving for you. We do ask that you do so with the following guidelines:
*Sales on Entire Stock*
Please only hold 1 'over-all sale' per quarter (ie every 3 months). This means, you can only mark down your entire inventory 4x per year and only for a length of time of 48 hours. Over-all sales may not be discounted more than 25%. This helps uphold Leetie's value & helps you to stay competitive.
*MarkDowns on Older Items*
If you feel like you have stock that isn't moving in your market or sales groups, you may do a more long term mark down, until it moves out. Please do not mark down anything newer to you, than 6 months & do not discount it more than 25%.
These guidelines, along with others in this document, will be subject to changing by Leetie Lovendale as we go along. They are intended to help you move your stock, but also maintain the value of the brand.
Commissions & Incentives:
At this point in time, we are offering generous discounts on the initial Buy In Boutique Boxes so that you get a little extra head start in the way of a discount. This means extra stock to get your business up and running. Re-orders are at standard wholesale (keystone or 50% off retail pricing) + the 5% overage stock bonuses.
We are working on an up-line system. This will be unveiled as soon as we have our first 20, regionally diverse Leetie Loves up and running. Once we have seen how well you will flourish selling Leetie, we know that you will want to share your success with others who might like to become a Leetie Love. We are positioned to offer incentive plans and team structured bonuses for new and in-coming Leetie Loves after the initial 20 are in a good solid and active standing.
At that point we will also be able to offer some other exciting and fun incentives (Leetie Love GetAways anyone?), but we don't want to put the clasp before the beads. <-that's my dorky way of saying cart before the horse. While those types of incentives and fun events are surely not far off, I am very committed to making sure that this company grows alongside yours in a solid and well engineered way. So more to come on that side of things.
Giving Back:
In the past we have given to a fantastic organization & growing education system in Guatemela known as Safe Passage. And during the time my husband was going through cancer last year, we gave to the Colon Cancer Coalition. We are shifting our giving to be more focused on empowerment of women and children in need. We encourage you to do the same and will be happy to share more about our gifts & the recipients of those gifts, should you care to join us as your business flourishes.
Termination of Agreement:
There is a 30 day written notice required for terminating your Leetie Love status. We will be sad to see you go but we only want excited and active Leetie Loves & know that sometimes life changes and people need to move on. Not staying active or remaining on auto-ship constitutes a cancelation of this agreement on the side of the Leetie Love & negates all other points in the agreement.
Thank you for your interest in becoming a Leetie Love. Please be in touch with any questions or concerns. Email is best - info@leetielovendale.com.
If you are ready to jump in, just print this agreement & sign below to indicate you agree to the terms, guidelines & procedures listed in this document. Email it to us at info@leetielovendale.com & we can get started! We are excited to work with you!
Your Signature
_______________________________________________________________________________
Printed Name
_______________________________________________________________________________
The Date
_________________________________
Our Signature
Heather DeSimone, for Leetie Lovendale
_______________________________________________________________________________
Printed Name
Heather DeSimone, for Leetie Lovendale
_______________________________________________________________________________
The Date
__________________________________
Your Autoship Date Starts on: _________________________________________________